Stephanie Davis Smith and Brittany Marler's journeys at N2 are marked not only by individual successes but also by their deep-rooted friendship. The two met during their college days as sorority sisters at the University of Georgia, and their connection has remained strong over the years – through moves, marriages, and now multiple magazines.
Stephanie, with an extensive background in magazines, marketing, and media, brought a wealth of knowledge and expertise when she joined N2 as the VP of Marketing and Editorial. Her journey with the company began a little over two years ago, and her impact has been remarkable. She now serves as N2's Chief Marketing Officer.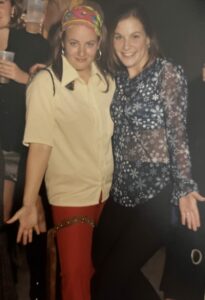 Before N2, Stephanie held high-ranking positions at Connect and Modern Luxury Media, further cementing her prowess in the industry. When asked about what drew her to N2, Stephanie's enthusiasm was palpable. She recounted how a headhunter approached her for the Head of Marketing position, and as soon as she learned about the company's ethos and vision, she was instantly hooked.
N2's commitment to taking care of its people and creating opportunities for Area Directors to flourish and achieve financial success resonated deeply with Stephanie. She vividly recalls a meeting during which the company's founder, Earl Seals, proclaimed, "Well, if it's people or profit, then we choose the people. So let's take that route." This leadership mentality was unlike anything Stephanie had encountered in her 25-year career, and it was the impetus for her decision to join N2.
Since Stephanie's arrival, she has spearheaded several noteworthy accomplishments that have transformed the company (for the better!). One major milestone was the rebranding of N2's flagship product – a line of over 550 magazines with varying names, fonts, and branding colors. Recognizing the need for a cohesive national brand, Stephanie and her marketing team successfully rebranded the product as Stroll in June 2022. This branding overhaul not only provided a sense of unity and recognition for the company's largest publication line but also paved the way for the creation of the Greet brand (catering to communities with higher home counts). Stephanie attributes the success of these initiatives to the collaborative efforts of her marketing team and the dedication of all departments within the company.
FRIENDS IN THE FEED
While Stephanie's role at N2 is focused on the bigger picture, Brittany Marler, now an N2 Area Director and publisher, is on the front lines tangibly impacting her community. Just prior to joining the team, Brittany spent 11 years as a stay-at-home mom, dedicating herself to her family. Before that, she was a national sales manager for Morris Communications, and she and Stephanie also worked together at Cox Communications, helping to launch a women's magazine in Atlanta.
Their story takes an exciting new turn in 2021 when Brittany, who possesses an entrepreneurial spirit and a deep-seated desire to connect with her community, discovered N2's Area Director role through none other than a Facebook post on her newsfeed… a post written by her long-time sorority sister, friend, and former co-worker.
Stephanie, who is well-connected in the greater Atlanta area, shared about an opening for an N2 neighborhood in Georgia on Facebook, casting a wide net for potential candidates. It was a serendipitous moment for Brittany who could see it was an opportunity to not only bring the magazine to her neighborhood but also create an environment where businesses and residents could flourish together.
So Brittany's journey with N2 began as she took on the role of Area Director and publisher of Stroll Chattahoochee River. Right from the launch of her publication, the residents of her community embraced the magazine wholeheartedly.
The positive reception was immediate and overwhelming. Residents loved the magazine and recognized the value it brought to their lives. Brittany can share many heartwarming stories of residents reaching out to her, expressing gratitude for the magazine, and seeking her assistance with various needs.
"I recently met a new resident who just moved in, and I told her I'd drop a magazine by. She said the previous owner had saved all of the copies for her and told her it was not only a great way to meet neighbors but also a great way to connect with reputable businesses," said Brittany.
The feedback from readers and business partners further reinforces the positive influence of the publication. Stroll Chattahoochee River not only serves as a platform for connecting residents with their neighbors but also provides a valuable avenue for local businesses to thrive.
When describing the overall impact her Stroll publication makes on the community, Brittany chooses the word "joy." The magazine brings joy to the lives of residents, acting as a catalyst for connection, information, and community engagement. The community that Brittany serves is unique, comprising of eight smaller neighborhoods nestled along the Chattahoochee River in Atlanta. These neighborhoods share a close-knit camaraderie, with residents participating in activities such as swimming and tennis as a unified community. Strong ties to the local schools through the involvement of PTA members further enhance the sense of community, while the abundance of wildlife and excellent schools make the neighborhood an ideal place to live.

CONNECT
IONS THAT LAST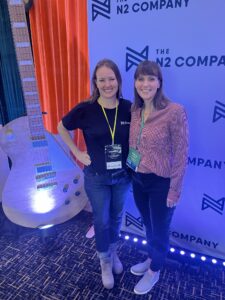 "Watching Brittany get this opportunity and launch a publication from scratch in 3.5 months (and over the December holidays no less!) was incredible," Stephanie gushed. "She has been doing fantastic ever since. She makes me look good, that's for sure. She has always been a connector, and this role was perfect for her."
"I'm so glad she saw my post and reached out. It's incredible to work with her in magazines once again."
We love yet another story of N2's impact on communities that exceeds far beyond the pages of its publications. We're a company built on the values of connection, entrepreneurship, and creating opportunities for individuals to thrive. Stephanie and Brittany's stories reflect the profound influence N2 has had on their lives and the communities they serve. As N2 continues to grow and empower more Area Directors, their mission to create thriving neighborhoods and foster meaningful connections are sure to leave an indelible mark on communities across the nation.
We truly believe genuine human connection – creating new relationships, but also keeping in touch with one's friends throughout the years – can bring about positive change. Stephanie and Brittany are not only proof of N2's mission but also proof that transforming your community can be done with those closest to you.
If you are interested in making a difference in your area or know someone who would be a perfect fit for the Area Director role, find out if there's an opportunity near you!