At The N2 Company, print media is our bread and butter (though we do also offer digital marketing services – shoutout to Hyport Digital). Believing wholeheartedly in the effectiveness and longevity of the print magazine industry comes easy to our team. After all, we've been a leader in the industry going on 20 years. But for those who don't live and breathe it every day, it's important to see the facts and figures to back this up.
Enter the 2021 Magazine Media Factbook recently shared by MPA, the Association of Magazine Media. We'll share the top findings from their in-depth review, as well as stats from our own magazine brands.
Don't have time to read the full article? Here's the super-short synopsis:
The magazine industry has been impressively resilient during the continued global pandemic despite a decline in pass-along readership in shared spaces. And as one of the nation's leading producers of niche magazines, N2 was able to launch more than 80 new publications across our portfolio of brands this year alone.
The Covid Effect
As the pandemic continued throughout 2021, things were not "business as usual" for just about anyone – or any industry. Consumers stayed inside more than pre-COVID times. It's safe to say most of us were desperately searching for entertainment in the safety of our homes. In this way, home-delivered magazines played an important role. They provided something to look forward to. A needed distraction. A fresh source of stories. A form of media that, for the most part, did not focus on the latest COVID numbers or hotspots.
N2 creates magazines, delivered monthly, that speak to the very niche audience they're created for. A welcome form of fresh entertainment during COVID times, indeed.
Our line of Stroll magazines share stories, photos, and happenings of the neighbors living within the community each magazine serves.

Real Producers also shares stories, photos, and happenings in a specific market, but all to do with top-performing real estate agents (and, as you likely know, what a crazy year it's been for that particular industry!).

BeLocal magazines provide brand new homeowners a much-needed guide to their new hometown. And with home prices soaring, more people are selling their houses and opting for a change in scenery in a new home.

Medical Professionals reaches, well, medical professionals! These magazines profile an area's physicians, nurses, office administrators, etc., to introduce others in the industry to colleagues they may not know outside of work. The pandemic has certainly put a strain on the amazing heroes we call health care practitioners, so we are thankful for the opportunity to provide a respite for them in the form of a monthly social publication.
Magazine Industry Stats
We're happy to report that, overall, the magazine industry fared well in 2021. And this was true among audiences of all ages. 90% of Americans under 25 read print and digital versions of magazines, and 63% of millennials say that, even in the digital age, they love the touch and feel of a printed magazine. Like we always say, there's nothing better than a printed magazine to deliver a screen break in these techy times.
In 2021, magazines reached 221.9 million readers despite a decline in pass-along readers in shared spaces thanks to shutdowns from the pandemic. And when it came to reaching women over the age of 18 (some of the nation's most powerful consumers), magazines surpassed the reach of top tech sites like Google and Amazon. 41% of readers say magazines are more important to them now versus pre-pandemic.
We love this take from MPA on the trust and engagement of magazines:
"Year after year, magazines consistently score higher than television and the internet on key engagement attributes. Not only do readers find the content more trustworthy, inspiring, and life-enhancing, their engagement with ads is significantly stronger. In 2020 – a year of COVID-19 shut-downs – readers valued magazines more than ever for the touch and feel, curated content, and ability to pick up an issue again and again."
A big differentiator for magazines is the longevity of each issue. According to the MPA report, the average reader holds onto 33% of their magazines, and 30% of readers never throw their issues away.
Now let's talk advertising. When it comes to magazines, more than half (53%) of adults believe the ads fit well with the content. This is compared to only 34% and 33% of adults believing ads fit well with tv and digital, respectively. Further, the majority of readers (an impressive 68%) take action after seeing a magazine ad.
The N2 Company Stats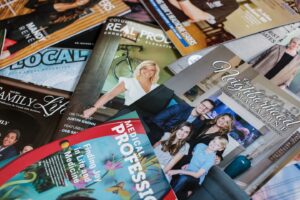 Considering COVID-19 presented challenges with holding reader events, meeting with potential advertisers, and general work life productivity due to kids being home, N2 has had a year to be proud of. Across all of our magazine brands, our team collectively launched 85 new publications. Our Stroll line of neighborhood magazines reached about 6.7 million readers this year. Real Producers magazines reached more than 550,000 readers. And our BeLocal publications reached more than 300,000 households. This year, we partnered with nearly 25,000 advertising clients.
With the odds against us, we've still had a banner year. We welcomed quite a few new team members. And some of our existing team members hit amazing work goals, increasing their productivity and sales to higher than pre-COVID levels. We couldn't be more proud of our people, who faced 2021 head on and who always aim to be better tomorrow than they are today (an ode to our Core Values). We look forward to an even more productive 2022, for N2 and for the magazine industry at large.
***
Looking for a role with a resilient industry leader?