Ah, the holidays. A time of hustle, bustle, merriment, and… sometimes chaos.
The truth is, the holidays can be hectic for everyone – from figuring out what to get your cousin you see once a year to remembering to get your kids' teachers the right gifts, there's a lot to juggle in the holly jolly days that seem to sneak up on you at the end of the year.
And yet there's always that one friend who posts photos with their feet in the sand overlooking a pristine sandy beach, disrupting the otherwise collective struggle bus(stle) posts on social media. What about those who are always taking "me time" off for not just a week, but *gasp*… even longer this time of year? Is enjoying the holidays just for the chosen (and blessed) few, or is that something worth adding to your own holiday wish list this year?
Our co-founders reached a point in their careers almost 20 years ago where they were sick of being burnt out and longing to spend more time with their families. They didn't want to sacrifice financial opportunities and knew there had to be something more for other like-minded go-getters out there. That's essentially how The N2 Company came about (and you can read more about our growth and products here.)
Choose Your Motivation
The Area Director role specifically is meant for people who are driven, community-minded, and a great culture fit. More than 650 top professionals have chosen this opportunity to connect businesses in their communities to their ideal audience through niche, award-winning magazines.
It may be true that all work and no play makes us dull boys and girls, but we do value solid work to reap the rewards. Launching an N2 publication takes determination and a willingness to put in the hours, although there's a supportive launch team, coaches, and other Area Directors who enjoy sharing what helps them succeed with others.
The Area Director role is what you make it and the motivation varies by person. Some Area Directors are motivated by setting certain income goals, and they keep driving until they achieve them. For others, they want to send their kids to college loan-free or be able to take a few big trips a year. Others want to be present with their kids in their formative years and have a schedule that allows for being a "class mom" or being there for pickup every day. Around this time of year, we love hearing from those who have the travel bug and want to truly enjoy the holidays with loved ones.
Wrapping Up The Year With Memories
Karen Ryan, a rockstar Area Director in Colorado let us in on her holiday (and year-round) travels. Karen is a top performer in our company, beloved by her clients, and has found a great way for her to balance her responsibilities as a publication business owner with being a mom – all while enjoying scheduled time off from her work!
"My plans for the holidays include taking off the entire week of Thanksgiving for a road trip throughout the state of Arizona, spending time with friends and family here in Colorado over Christmas, and then a trip to Indiana to see my family in between Christmas and New Years," said Karen. Now that's some fun, family, and sightseeing wrapped up in a pretty bow!
How does she do it? Well, she's a planner and knows the ins and outs of what she needs to do in order to enjoy some much-deserved time off.
As for wrapping up the year, she's "taking quite a bit of time off throughout the month of December. I am working on content, administrative work, and business planning for 2022 but am not doing any new sales meetings." As for some fun things she's looking forward to, "I will be using this time to spend with friends and family and focus on my health. I'm acting as a parent chaperone on my daughter's field trip to the Capitol Building, taking my son on a number of middle school tours, having lunch with a number of old coworkers, working out four times a week, and getting my holiday shopping done, of course!"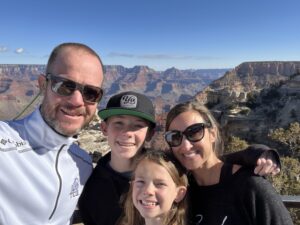 Great goals, Karen! Overall, she's thankful for the flexibility of her role – "It's the biggest benefit," she says. "When I am working, I work hard so that when I take time off I can play hard. I love being able to set my own schedule and make my family a priority. I primarily work during school hours, drive my kids to school, and get them to their many activities. This year I took off the entire month of July for various trips – Lake Tahoe, Steamboat, Vail, Telluride, and Indiana to see family."
We hope your holiday season is filled with wonderful memories with loved ones and at least some time for yourself. If you're looking for an opportunity that provides the flexibility described here, check out the Area Director role.