Welcome to our three-part series introducing N2's new Directors of Product Growth. In addition to Keith's story below, be sure to check out our articles on Bobby Wright (director for Real Producers) and Denise Castellano (director for BeLocal). Enjoy! 
Keith Sewell and the position of Director of Stroll Product Growth seem to be a match made in heaven. After all, Keith has always had a propensity and a passion for leadership; he's held N2 leadership roles since 2016 and views himself as one who serves others. "I look at it as I'm a servant – is there a way I can come alongside the Area Directors and make their world, their life easier? I want to do that all day long," he said about the newly created director position.
What's more, Keith is no stranger to Stroll. He began his N2 career (in 2014) as an Area Director for one of the company's neighborhood publications. Those publications, of course, are now under the Stroll umbrella. Eventually, he launched two more such magazines. (All three publications centered on neighborhoods within his hometown of Dothan, AL.)
Singing Stroll's Praises
Keith remains a huge fan of the Stroll product, witnessing first-hand the positive impact his publications had on advertisers and readers. For local businesses, he saw his products serve as "bridge-builders," creating trust and relationships with residents in a way not possible via other avenues. And that was accomplished not only through the print publications, but also via face-to-face events and digital efforts.
And on the reader side, Keith saw the magazines' unique ability to connect neighbors to other neighbors – and those connections often turned into lasting relationships. He pointed to one reader – new to the neighborhood with her family – who was so excited about the connections she made through her publication that she wanted to be part of the team. She ultimately became a content coordinator.
Another telling reader story? Keith has plenty to share! A married couple who loved their neighborhood publication had to relocate to another state because of a job. The wife soon emailed Keith, begging a favor: Could he do some research to identify neighborhoods in their new neck of the woods that had such a magazine? 
"They wanted to live in a neighborhood that had that. They understood the power of being connected to the people in the neighborhood through the publication," Keith shared.
Taking it to the Next Level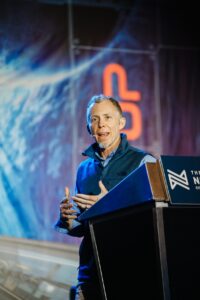 As Director of Stroll Product Growth, Keith is tasked with building on the brand's success to date. He aims to make Stroll "as good as it can be" so Area Directors, readers, and clients alike have a product that is "second to none." Keith also wants to ensure Area Directors have all the resources, in training and beyond, they need to succeed and grow.
At this point, a typical day for Keith involves "a whole lot of meetings," as well as collaborating with others at N2, to help plan and strategize efforts to advance Stroll. The intention is not only to make Stroll even better than it already is, but also to improve the overall operating experience for the Stroll team. For this, training comes into play in a big way.
"I train all of our new franchise owners," Keith explained. "That's one of my favorite things I get to do – be a part of their journey as they embark on their N2 career of owning a Stroll franchise."
Ambitious Goals
Looking ahead, Keith is optimistic and ambitious in relation to the Stroll brand. He's most excited about the Stroll rebrand, believing that the recent move to national branding will continue to take the product to an "astronomical" level. "It creates such an energy and a vibe and a cohesiveness across the country," he said.
"When people start looking for homes… it's like they can't even consider moving to that neighborhood unless it's a Stroll neighborhood."
Keith is also bullish on the fact that Stroll publications remain print products. "There is something about the permanence of paper," he said. "It's the tactile feeling – I get to touch it, I get to feel it, and I'm not just looking at pixels. I'm looking at something that is real."
When readers are featured, they are able to share something solid and lasting with friends and family. "They feel that they have ownership in it versus all of the other generic stuff that goes out," he said. "It just makes it stand alone in the print world."
Time for Family 
Keith joked that his passion for leadership makes Stroll not only his professional focus, but also his personal focus. "Right now, Stroll is my hobby," he said.
Jesting aside, Keith does have interests outside of work. His main hobby is spending time with his family – Hope, his wife of 20 years, their daughter Ruthie (18), son Tobin (17), and daughter Lilly (13). (It could be that Ruthie shares some of her father's passion for leadership; she just graduated from high school and already is running and growing her own business!). 
These days, that family time is likely to be spent in or near the water. "Paddle boarding has become a passion for the family as a whole," Keith says. "Outside of that, we're itching for football season to start so we can start rooting on the Crimson Tide to head toward another national championship." Roll Tide!