Welcome to our three-part series introducing N2's new Directors of Product Growth. In addition to Denise's story below, be sure to check out our articles on Bobby Wright (director for Real Producers) and Keith Sewell (director for Stroll). Enjoy! 
"Overachiever" might be an apt descriptor for Denise Castellano, who recently stepped into the newly created role of Director of BeLocal Product Growth.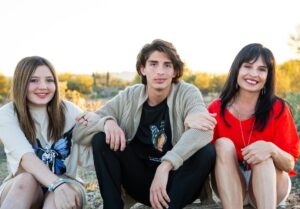 Denise began her N2 career in 2016, after leaving an executive position with a company possessing ethical values that didn't align with her own. She was drawn to N2's "culture deck and moral fiber." Motherhood was a major priority for Denise, too – her son Noah was 12, and her daughter Charlee was 7.
She started at N2 as an Area Director (AD), launching a neighborhood publication in the Phoenix, AZ area. But in typical Denise fashion, she had bigger ambitions. And those ambitions led to the launch of two more neighborhood publications, followed by a Medical Professionals magazine (the second one ever) and – finally – a BeLocal publication. She was on a roll.
"I was fortunate to have a bright and successful career as an AD," Denise noted, "winning Founders Club every year, maintaining Top 10 status year after year, winning the Lunch Pail Award and the prestigious Big Dog Award." 
A few years later, Denise was ready to add to her already substantial achievements by pursuing leadership roles within N2. She started that journey in the Compliance & Training department, then eventually accepted positions as Technical Trainer, Performance Coach, and Transfers Manager. And prior to moving into her current role, Denise served as Region Manager for N2's Southwest Region, which covers Colorado, Arizona, New Mexico, and Utah. 
"The AD and leadership experience I've had at N2, coupled with my MBA – with an emphasis in Organizational Structure – has positioned me perfectly to head up product growth for BeLocal," she said.
Growth-Minded
As Director of BeLocal Product Growth, Denise is tasked with ensuring the health and growth of the BeLocal product. "To put it simply, it is my job to ensure the product is on solid ground and has the potential to not only sustain, but to grow," she explained.
Her first priority in this new role? To "negate ambiguity" and outfit BeLocal Area Directors with what they need to build and sell a "superior product." Denise knows that with the right product specs and value proposition, existing and future BeLocal Area Directors will be better able to capitalize on and grow the product. A win for BeLocal ADs as well as for the readers and advertisers who depend on this one-of-a-kind community guide.
Area Directors also can look forward to well-defined content standards, thorough ramp-up training, readily accessible resources, consistent product-related training, and profit-minded pricing structure. "We have an incredibly savvy group of ADs running BeLocal [publications] today, so we will realize tremendous growth by working together as a team!" Denise stressed.
A Solid Foundation
Denise will be building on an already strong foundation – tied to a product she absolutely loves. "The BeLocal product is my favorite by far," she said. "It has such a unique and simple value proposition. It is truly a 'no-brainer' for potential advertisers."
Over the years, BeLocal has made a positive impact on the communities it reaches, too. As Denise pointed out, it enables new movers to get need-to-know information about local businesses. And BeLocal has given advertisers a personal way to reach those new movers. 
The fact that BeLocal is an N2 product is just icing on the cake. In Denise's view, Duane (CEO), Earl (president), and the other leaders operate the company with much "heart and soul" and attract people who have a similar moral fiber.
"We are all part of something much greater than an organization," Denise said. "We are part of a beautiful community of people who shoot from the heart."
Many Moving Parts
Denise is excited about BeLocal's journey thus far, but she's even more excited about the brand's future, which she calls "bright." Her vision calls for BeLocal to be a staple N2 product that offers unlimited earning potential for current and future Area Directors. 
"BeLocal will be a trusted, well-defined product that offers unparalleled competitive advantage and a unique franchise opportunity," she said.
"BeLocal will be the most sought-after product at N2 and will be a nationwide household name for new movers." 
To achieve that vision, Denise is on a mission to speak with as many BeLocal Area Directors as possible. They not only communicate the challenges unique to their role, but also can share their "brilliant ideas." So Denise has spent the first few weeks in her new role "having a lot of conversations."
She is also spending much time with folks from other departments across N2 to make sure everyone is working together as efficiently and effectively as possible. Strategizing and game-plan development are staples of her daily to-do list. 
"My mind is at work 100% of the workday and then some, but that's how I like it!" Denise said. "I've always said my mind is like an amusement park, so having a role with so many moving parts like this one serves me very well."
It should come as no surprise that the home life of this overachiever also has many moving parts. Denise continues to be actively involved with her children (now 18 and 13), as well as Benji and Mocha, the family's dogs. She puts a high value on self-care, too, spending a lot of energy on enriching her mind, body, and spirit.
"I love to read and learn," Denise shared. "I'm an avid runner and yoga practitioner. Fitness is a big part of my life, so I wake up early everyday to ensure I get my workouts in. Exercise keeps me sane!"
Interested in finding out about the BeLocal Area Director opportunity? Learn more here!