Couple Tackles Financial Woes & Finds Inspiration
Between the two of them, Lindsay Rucker and Shea Robinson own and publish four magazines in Seattle. Neither of them was in publishing or advertising sales before. In fact, their career paths were the exact opposite. Lindsay worked in a high-end salon in downtown Seattle. And Shea was, as he explains it, engaged in three "very lucrative professions" as a year-round basketball coach, one-on-one basketball trainer, and a stay-at-home father.
Lindsay first made the career shift to N2 in August of 2013, working as an appointment setter for another Area Director. After proving herself in the market, she was allowed to ramp up her first publication. Over the years, she's taken over two other publications as well.
"I worked in downtown Seattle for 10 years doing spa services and was also the department head for several years. I felt stuck. And N2 got me moving in a different direction where I would have more control of my income and destiny. I wanted to find something that I believed in and where my income reflected my efforts."
Her inspiration flowed over to Shea, though he took his sweet time to let it really soak in. But he strongly encouraged Lindsay to change her career path, and acknowledged her success and the great culture she was benefitting from when she did. There was something else he couldn't help but acknowledge as well – the positive difference she was seeing on her paychecks.
Shea remembered, "We did the math one day and realized that with a 40-minute meeting, Lindsay could make three times my entire year's salary as a head coach at Lakeside High School. That was some harsh math to process. That summer, I decided to step back from being head coach, we purchased the Greet West Bellevue publication, and a year later I went to training for Real Producers."
Shea ultimately waited almost six years to take the plunge. He took over Seattle Real Producers in August of 2019 and has since elevated the magazine to a place of great respect in the real estate community.
Why the wait, according to Shea? "When RP came along, I saw it as an opportunity to join the company, but it would be different from what Lindsay was doing. I saw the hard work it takes to successfully run a thriving publication. I was also very hard on myself because I only compared myself to Lindsay, who had found a ton of success and also had a six-year head start. But I found my stride, gained momentum, and I know what I am capable of."
DOWN TO BUSINESS
Tough shoes to fill indeed, but both Lindsay and Shea are now finding their own paths with N2. It's not just the income and flexibility that drive them, though. They have found continued success and meaning in the way they run their publication businesses.
"I love being a positive media source in the community when mostly all other media thrive on negative," Lindsay said. "It's a refreshing and uplifting read, and shows us there is still good in humanity during trying times."
Lindsay and her team pack the pages of her N2 magazines every month with great content that goes beneath surface level. She knows engaging, informed content focused on her residents is extra rewarding. That's something she can stand behind in a sales meeting with a potential client.
"I try to stick closely to the 'N2 program' in my meetings since I do a good amount of cross-selling. I want to make sure I don't promise something to them that another Area Director won't be able to, or want to fulfill," she said. "It's important to go above and beyond finding ways to organically insert my businesses in relevant content (through giving back in the community) and things like that when I am able to. I also try to do B2B referral introductions and leave positive reviews for my clients.
To be succinct, "I don't over-promise. I am clear and confident in what we do."
When it comes to both Lindsay and Shea's advertising partners, as Lindsay would say, "When it fits, it fits." They've found if they treat people well, set clear expectations, and the audience is right for their business, partners will continue to see value in advertising.
For Shea, "The most rewarding experience is creating engagement, earning agents' trust, introducing a partner to an agent, and watching that planted seed grow into a budding relationship."
"As [Seattle RP] continues to gain traction in this market, more and more agents are realizing what we do is so much different from so many other platforms. I love hearing, 'I can't wait to read through the latest article and take tips and stories from the best in the business!'"
GIVING BACK
Shea and Lindsay are both very passionate about helping charities through their publications. "The impact our readership can have on a nonprofit is exponential," Shea said.
We've seen the list, and there are countless nonprofits they have supported through their four publications, as well as personally. They credit the positive impact as a "driving force" behind their careers. And they realize the huge impact N2's 501(c)(3) free ad space program and relevant nonprofit features can make in these communities.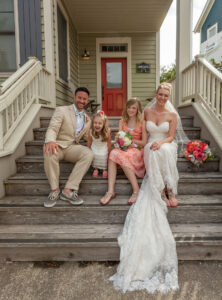 FAMILY MATTERS
"N2 has completely changed our lives," Shea said. "Since Lindsay has joined N2 we've been able to do things in life that we never thought were possible."
They have two girls, Kayla (16) and Avery (8). They're a blended family (Lindsay had Kayla from her first marriage before meeting Shea).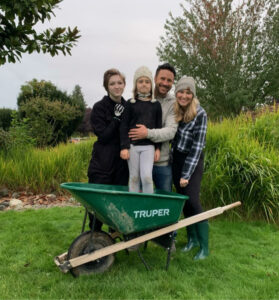 "I thank my lucky stars every day that Shea and I met," Lindsay said. "I don't know what we would do without him! He really is the best and if you know him, I'm sure you'd agree!"
Shea and Lindsay's extended family is large with many different branches, and they embrace them all. "We don't know any other way than to enjoy the ones we love and care about, "Shea said. "I love my daughters and showing them you can have fun, love life, and find happiness at any moment."
They also have a Bernese Mountain dog, Murphy, and a Ragamuffin cat, Jojo, which they got in September of 2020 (otherwise known as a pandemic pet).
They've been on countless trips to Mexico (with and without the kids, and family), Disneyland to spoil the girls, and in 2019 they went on the "trip of a lifetime" to Scotland. Shea golfed at St. Andrews, they stayed in a castle, and then jetted over to London for a few days. They discovered their love to travel on this trip.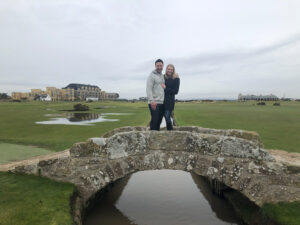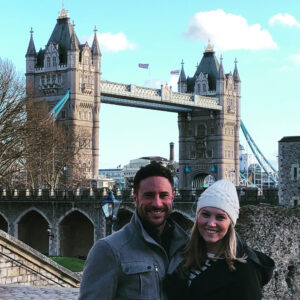 "Aside from all the trips, it's what we've been able to do for our family," they said. "Giving our girls comforts and opportunities. Being able to help family members who might be in need and sponsoring children in need. We love being part of N2GIVES and the fight against human trafficking. Buying a house that we are proud of, not because we want to show off, but because we can show our children what it means to earn something.
"We will forever credit N2 as being the open door to fulfilling our dreams."
An open door could be what you're looking for in your career. Learn more about what that could look like for you.