The Terrys may be "working parents," but it seems more fitting to say they are
parents
that
work
. After all, for these two, being mom and dad always comes first. It's why Mike and Alice bid farewell to careers that would mean sending their daughters to daycare during their precious early years – and why they waved hello to N2.

WORK-LIFE IMBALANCE
Before the launch of their own N2 business, Alice worked in HR for a local government branch and Mike in corporate sales for a management group. During that time, they admit their work-life balance was pretty grim, and yet all too familiar for many working parents today.
Mike was out of the house every weekday from 8:00am until at least 5:00pm, and traveled for work one or two weekends each month. Faced with a 45-minute commute to and from the office, Alice worked 10-hour shifts and often didn't pull into the driveway until 7:00pm.
"With our old schedules," Alice said, "it's likely that I would've had to quit my job and sacrifice my income once we welcomed our daughter, Ella. And that would have been really tough for us."
Even when they should have been enjoying their DINK life (Dual Income No Kids) to the fullest, they struggled to find quality time to spend with one another – and they had to forget about time with friends and family. Tired of the high demands and inflexibility, Mike set his eyes on a new opportunity in May of 2014.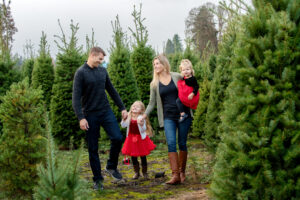 FAMILY FIRST
Partnering with N2 opened the door to the family-friendly lifestyle the Terrys were seeking. So much so that one year after Mike became an Area Director, Alice left the County to become a part of their growing N2 franchise, now three publications strong.
"Mike takes care of all the revenue-generating activity for our business, like relationship building with current clients and holding events in our communities. I take care of all the content for our publications," Alice said. "Working together allows us to spend so much time together as a couple, but also allows us to watch our precious girls grow up."
With a background in HR and recruiting, Alice knows a thing or two about work perks. To be able to stay home with her 5 and 2-year-old daughters and work on content during their youngest's naptimes is a form of schedule control she's never seen before.
"Honestly, I never thought we could have this much flexibility and make what we make, but N2 has provided that for us and blessed us beyond what both Mike and I ever imagined," Alice said. "[We] can still be a part of [our] children's lives and not miss the important things, yet still have a great work life."
The advantage of owning their own business came into full view for the Terrys when Ella suffered from ear infections which left her nearly sleepless for a three-month stretch. When visiting with specialists, both Alice and Mike were able to be present, and they had the ability to book the earliest appointments offered without fear of missing meetings or disappointing bosses. The same goes when they welcomed their second little girl, Emma, into the world.
"It would not have been so easy had we both had office jobs," said Alice, "and there would have been a ton of loops to go through to get FMLA to have it covered. The ease with which we were able to be there for Ella is amazing."

LIFE LESSONS
But no matter how much flexibility you have as a working parent, the same struggle still exists; Balancing responsibilities as a caregiver while remaining a productive and dependable worker. Alice understands this situation first-hand and has advice for others seeking balance.
"Planning! Look at your calendar and mark down what and when the important events and dates are, such as vacations," Alice said, "and create your work schedule around that."
Yet another concern that goes hand in hand for many professionals with a lot on their plate is the risk of burnout. As parents, most people commit to doing their very best at raising their children, so it's no surprise that the negative effects of burnout often play out at work. This is when the flexibility of business ownership comes to the rescue once again.
"Mike really pushes himself in four to six-week spurts. Then, we take several three-day weekends throughout the year," Alice said. "And when we were at a place with our income to do so, we hired an admin to help with the small things that take up a lot of time. This all helps to keep our stress level low so we can enjoy life with each other and our daughters."
Looking for a career with a bit more balance between your work and personal life?