Financial planning is important for everyone, no matter how many zeros are behind your net worth.
Work perks and benefits are probably one of the first things you Google about a company when considering a new position. Who doesn't love a fitness class or campus cafeteria? Give us all the perks – even the ones that don't sound as "fun." Like the ones with the "f" word… finances. Yes, it may sound like a no-brainer to add to your 401(k), but we don't all get the same thrill out of financial security as our buddies in accounting. Responsible though it may be, taking advantage of your workplace financial perks can bring peace of mind and you may even get a thrill out of the feeling once you've set yourself up for success.
At N2, part of our mission is to create financial wealth for everyone involved. We aim to not only educate our people on how to make the most out of the money they earn, but offer unique perks (like our first-time homebuyer program) that can help them reach the money goals they care about. We offer team members a 401(k) plan with company match, financial planning services, and discounts on hotels and theme parks to name a few. We believe so many of the benefits offered can mean more cash in pockets and peace of mind for the future.
We recently took a virtual lunch hour with John Zachary, a certified financial planner and wealth adviser with Pathfinder Wealth Consulting, to talk through one of our helpful financial benefits N2 team members can take advantage of.
Besides 401(k) financial advising, the Starter Path Financial Planning assessment is a great way for our team members (and their significant others) to get a comprehensive review of their finances – all paid for by N2. John meets with our team members to review everything from their savings rates to debt repayment to insurance and estate planning – whatever makes sense for their specific needs. Our team members take advantage of this service free of charge and can do it annually.
Take it away, John!
What could be discussed during a financial planning assessment?
This is the benefit of laying your finances out before you! What is discussed can be up to you and your partner, and can range depending on your financial situation and goals. Do you have any immediate or pressing financial questions or concerns? Do you want to specifically talk about retirement and determine if you're saving enough (or too much) for the age you plan to retire? Perhaps you'd like to understand how taxes are incorporated into your investments and savings plans. Regardless of where you are in your financial life, and whether you have any immediate concerns or not, me and my team will take a comprehensive look at your situation and give you feedback and advice on a whole slew of areas – some that you may have never even thought about! Here are the major topic areas that will be covered:
Budget and cash flow planning

Retirement income planning

Investments

Risk management

Debt planning and strategies

Estate planning

Tax planning

College planning
During your assessment, we will discuss action items tailored specifically to your situation, helping you to get on track with your finances and on the path to reaching your short-term and long-term financial goals. But remember, that means you have to do the work by implementing the action items given to you.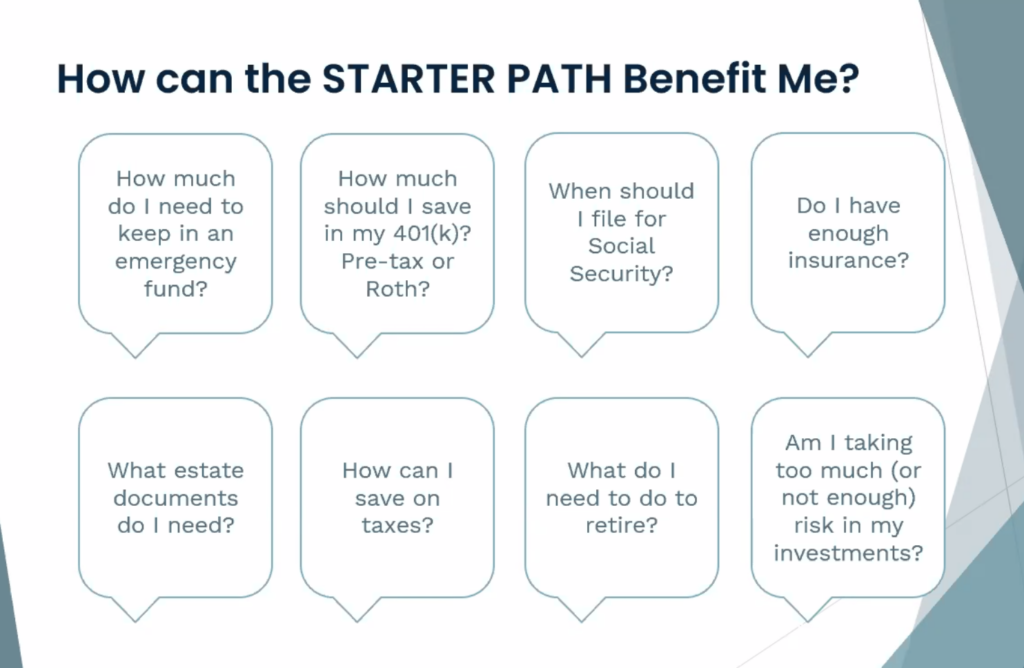 Okay, John, but why should I meet with someone this year about finances?
Financial planning is important for everyone, no matter how many zeros are behind your net worth. We all can come up with excuses for why we shouldn't take advantage of this now… I haven't saved any money yet, I have credit card debt, I'm about to buy a house, I'm about to get married, etc. You don't need to have all the resources or a ton of wealth (if you do, that makes this process even more important!). The goal is to figure out what's right for your situation by helping quantify your goals for the future and help you get to them more efficiently.
Pushing the can down the road is the easy way to go, but your future self will thank you for taking action now. It's always easier if you're proactive and plan early, versus being reactive and having to make these decisions during a crisis or play catch-up later.
One thing I try to do for folks is automate all of their financial savings. This involves figuring out an appropriate amount to go towards 401(k), personal savings or emergency fund, and other goals. Once you fully automate these things and figure out what to put in each bucket, you can spend whatever is left over however you like (how's that for thrilling?) – all while knowing the long-term stuff is taken care of letting you focus on the here and now.
Remember, you can do this assessment annually. It's a good idea to review your plan periodically to not only document your progress but to make sure you're still on track for the future you want to see! It doesn't matter where you're starting out. What matters is that you're making a decision now to be more in control of your finances and future.