The N2 Company wants the family of every team member to achieve financial wellness. So much so, it's two-thirds of our mission statement: … to strengthen the family, and create financial wealth for everyone involved.
But, like most things worth doing, achieving financial wealth is easier said than done. There are a lot of pieces that need to come together in order to become financially fit. Home ownership – a.k.a. putting rent money into your own pocket, not someone else's – is a huge piece of this puzzle. And so, if we want to "strengthen the family and create financial wealth for everyone involved," we've got to encourage our team to become homeowners. 
But there's an obvious hurdle here: the down payment. 
Jumping Over the Hurdle
A lot of people write themselves out of the home buying process at the beginning: when a chunk of cash is needed to prove they're trustworthy enough to borrow a large sum of money.
We're committed to helping people clear this barrier to entry.
For our Area Directors, their uncapped pay structure helps many reach a place of financial freedom. In fact, the income potential is one of the biggest reasons people want to become Area Directors in the first place. In a commission-only role with nearly limitless earning potential, hard work yields great rewards. And with great rewards comes provision for a down payment and the pride of homeownership. But what about our Home Office team members who, in large part, are salaried employees? For them, we started a First-Time Home Buyer Program. 
For our full-time team members who have been a part of N2 for at least two years, N2 gifts $7,000 to be used toward a down payment on a first home – a massive step towards financial wealth! This program has been in place since 2017 and has impacted the lives (and more specifically, the living situations) of more than 40 N2 team members and their families.
Hurdle Officially Jumped: Meet Some of N2's Recent First-Time Homebuyers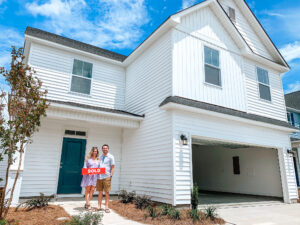 Ashley Toth (Marketing) and Steven Toth (Production Engineering)
"In March of 2020, Steven and I found ourselves working from home in our one-bedroom apartment. We quickly realized the need for more space. What began as a daydream, looking at houses online after work became a reality with the help of N2. N2 afforded us the opportunity to help with the down payment on building our dream home in Wilmington, NC. We are so grateful for this opportunity." 

Amelia Calin (Hyport Digital) 
"I'm so incredibly grateful to N2 for this opportunity and for helping me buy my first home! It is an amazing achievement and we're loving every bit of it! Looking forward to the many memories this home will give us."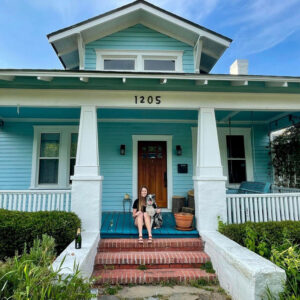 Evin Leek (Publication Design)
"I'm so grateful for N2 for helping make this possible."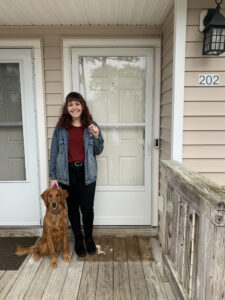 Amber Mangione (Advertising Design)
Amber Mangione purchased a condo in Wilmington, NC, and posed for this adorable photo with pooch Maple outside their new abode.
We believe the homeownership hurdle should not be too high for those who are working diligently to build a better future for themselves and their family. Our goal through this program is to spread financial freedom and to multiply that impact until every family is heading down the path to building wealth – a path that leads to a house that can become their very own home sweet home.