As a small business, your website is the first impression made on a potential customer these days. Go to your website right now and see with fresh eyes what impression it makes. How is it?
Good web design is important and high-quality images paired with it capture your viewer's attention. But the content on your small business website is what keeps them there, and is ultimately (hopefully) what will make the sale. 
Two key indicators of your website performance are bounce rate and unique views. If you have a high bounce rate and a low number of visitors to your site, it's time to revive your content. Read on! We'll break down four tips on updating your small business site content.
1. Customer-Centered Content
What could be worse for your business than a slow-loading site? While that's certainly not a user-friendly indicator, content that isn't focused on your customers, or content that's overly pushy or sales-y, can be worse. It's a common mistake with some small business owners to jump right into the sales pitch when it comes to content. While having a clear call to action (CTA) throughout your website is important, don't hit your customers with flashing sales lingo or a long list of products and prices as soon as they arrive. They'll just as soon leave. While it's true you just have a few seconds to catch someone's eye these days, it's not an excuse to squeeze all your company info at the top of the page.
Your customer is not a cash register. But that approach indicates to them that's how you see your visitors. Don't make it too complicated – make it about your customers and treat them like regular people instead of dollar signs. When they see content speaking to them and how you can help them specifically, they will already see you as more trustworthy.
When you speak to your customers on your site, use the words they need to hear. What's the problem only your business can solve? Empathize with them in that problem, and help them see that your expertise is there to help them live the life they deserve and want. Treat them as the hero in their story, while you are there to help guide them to the next level of their success.
2. Design Your Content Well
We've thought about how to talk to your customers through content. But reviving your website content is more than just what you're saying. It's also how you say and show the text as well. Just imagine if we removed all the formatting from this blog post – no subheaders, graphics, or even spaces between this copy. Would you finish reading? You probably would take one look and exit out of the tab. We're all busy people and we don't have time (or at least we don't think we do) to read an entire blog post.
We 
       scan
                  the 
                           page.
Odds are, you scanned this article before reading it to determine if it was worth your time. You might have seen the main points and decided one was exactly what you were looking for. Great website content appeals to readers like you. It's broken into smaller chunks of text separated by header tags and images. And not only does this help the readability of your page, it also improves SEO.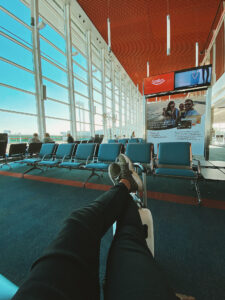 People also like room to breathe. Or if you're navigating a website, white space. Imagine you're in a crowded airport terminal. There are people all in your personal space and you need to find somewhere you feel like you can breathe and relax until the next flight. Similarly, white space on a website gives your readers the impression of a calm, stress-free space where they can digest your information well.
3. Educate Your Audience
What would you say your small business website is for? Many business owners would say it's to make money for your company. They're not completely wrong, but your website is more so for encouraging and creating a loyal customer base. Loyal customers are the type of people you want to attract with your site. And free, educational content is a valuable resource your site can provide.
Doling out valuable answers to your audience's questions (even before they purchase from you) helps establish trust in this relationship and helps them see you as a true expert in your industry. Give them great answers through a company blog. You probably know a few pain points already when it comes to your market. Start with the most frequently asked questions and go from there. When customers stick around for the long haul, they tell others how great you are, and continue to purchase your other products or services. And consistently providing educational materials through your website not only makes your customers happy, it also makes Google happy through increased web traffic and SEO. 
4. Keep Hitting Refresh
Your website is not a "set it and forget it" tool. It's obvious you need to keep up-to-date information on your main pages, but don't forget your old blog posts as well. What's the likelihood of you reading a blog from five years ago if there's another posted this year? Go back to your old blogs and refresh them with your latest trends and research. As technology changes, it's possible that information even from one year ago isn't true now. Keep your reputation strong and replace anything outdated associated with your name on the web.
You don't have to do this every month – every few months, set a reminder to go through all your website pages and revisit old blogs to republish with updated content.
As you may have read above, if you've made it to the end of this article you are in the minority of web users. And that's alright! We know you're busy and part of the reason why we format our blogs like we do is so readers can scan to get to the information they need most. We still consider that a win. As a small business owner, you're trying to get the best information out to your ideal audience as well. That's why we started The N2 Company. Our line of products help the best local businesses through print, digital, and in-person marketing. 
And if you'd like help with refreshing your website content, reach out to our Hyport Digital team to ask about our creative services. We exist to help you reach your ideal audience.