Twice annually The N2 Company gathers together for an in-person conference. It's time for camaraderie and fun (one glance at our event photos and you'll understand), but also for bettering our business. Across all of the N2 products, we aim to build community while helping great organizations reach their ideal clients. You'd think after nearly 20 years in business there wouldn't be much new to say on the subject, and yet year after year team members grace the conference stage and offer meaningful insight, personal stories, and plenty of comedic relief.
N2's conferences are strictly for our internal team – a mix of tenured franchisees, those who are in the midst of ramping up their publication, organizational leaders, and support team members – but for any of you opportunity-seekers trying to get a glimpse into the full N2 experience before deciding to apply for an Area Director role, here is a tiny taste of what our conference is all about. Read on for high-level takeaways from Day One of our recent Fall 2023 National Conference, and enjoy a collection of photos that represent what this biannual gathering is all about.

Founders' Message with CEO Duane Hixon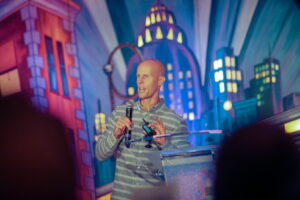 N2 conferences are for and about our franchise business owners, so it's no surprise CEO Duane Hixon kicked off the recent conference with a message about running a business successfully. He reminded the hundreds of Area Directors in the crowd that business ownership is all about how you think. Whenever you have unknowns – and there are plenty of unknowns for any entrepreneur – you will have fear. How do we battle this? Know what to expect.
History tells us that tough seasons are normal. Duane reminds us that if we believe anything will be all good or all bad, we'll set ourselves up for disappointment. "Bad news that is true is better than good news that is false." He urged franchisees to face challenges head on – don't pretend like they don't exist. It's all about awareness and remembering that hope and optimism is a choice we have to make every day.
So if ever we find ourselves going through a tough season, and we undoubtedly will, let's remember back to the belief and hope we felt when we first endeavored into whatever passion project we felt called to do (for our franchisees, this is launching their N2 publication business). In the closing words of Duane, "Cling to that – choose hope."

What's Your Superpower? with Franchisee Suzie Chafin
Suzie Chafin, long-time N2 franchisee, took the stage and fully embraced the superhero conference theme: Stronger Together. She spoke of the superpowers every one of N2's franchise business owners possess. According to Suzie, every N2 Area Director is:
Uncommon

Unrivaled

Unstoppable
Digging into each of those superpowers, Suzie explains that to be in sales – which is the predominant responsibility of Area Directors – each franchisee is professionally rejected. Anyone in sales of any kind will understand this aspect of the role. But to face objections head-on and never be deterred by the "no's" and "not now's" is an uncommon skill, and one that makes our Area Directors succeed at high levels.
Suzie goes on to explain that what we do as a company is "simply unrivaled."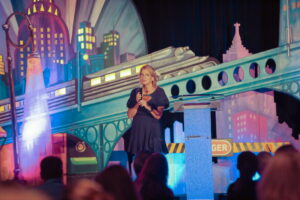 From the deep connections we make with the readers in our communities to the trust we build with local businesses who love the hyperlocal and hyper-relevant marketing they do through N2, our service is far beyond what any others can deliver.
"Unstoppable" is the third superpower Suzie touched on, and it made her list for good reason. Going back to the "uncommon" superpower, Area Directors who make it in this role have plenty of grit and resilience. But there's more to this story… they also have a hunger for growth. Every single day they push to grow their impact, their business, and their reputation. Area Directors do not rest on their laurels. And when they reach their goal, they set another one.
Suzie closed her message by mentioning yet another superpower every person at N2 shares: We are all redeemers. How so? Each and every one of us contributes to an organization devoted to serving others. A major way we do this is through our giving program, N2GIVES. Beyond serving our readers and our advertisers, we serve the worldwide community of human trafficking victims through our strategic funding of anti-trafficking organizations. Suzie reminds us that an antidote to any kryptonite we may face is working from a place of service, and to remember the millions of people we are impacting.
Above are high-level takeaways from just two of the nearly 30 messages delivered from the conference mainstage – and this doesn't include all of the breakout sessions franchisees attend to do a deeper dive into topics of interest. At N2, we're all about the growth mindset, and we seek entrepreneurial go-getters who share our uncommon, unrivaled, and unstoppable superpowers. Think you may be a fit for the Area Director franchise opportunity? Learn more today.