by Allie Hartzog
"It was a complete accident. N2 wasn't looking for me, and I definitely wasn't looking for them! I guess we were both in the right place at the right time."
Robert Smith's had a passion for sports from day one. In fact, if you've had the opportunity to speak with him for even just a few minutes, you likely already know athletics mean a lot to this St. George, South Carolina, native.
His love for the gridiron and other ball games shaped his path in life, there's no doubt, but when it comes to those who lit the way, Robert is quick to credit his father. After all, the most important pillars in his life – faith, respect, hard work, and character – are a direct result of his upbringing.
Of course, Robert understands a higher power has played a big role, too. "Everything I've been through I may not have gotten the way I wanted to, but God gave it to me in some variation of the way He wanted me to get it," said Robert.
With sage guidance from his dad, and from his Father, Robert has excelled in life despite unexpected twists and turns. Though still an N2 newcomer, there are plenty of lessons to be learned from this young Area Director, who possesses a competitive spirit and team mentality learned from the playing field.

Game Time
As a quarterback, Robert was setting records in South Carolina. But success was also found off the field. He graduated 15th in his class (ironically also his jersey number) with a 3.8 GPA and received academic scholarships to a number of schools, in addition to many athletic scholarships. He had his pick of so many great programs, so many different paths.
The deciding factor for Robert stemmed from an injury he endured his junior year, an ACL tear. Just before the setback, he received 12 full athletic scholarship offers from big programs. After the injury, all but one took back their offer – Clemson University.
"Clemson told me they didn't care if I tore my other ACL; they liked me and were going to honor their commitment to me," he recalled.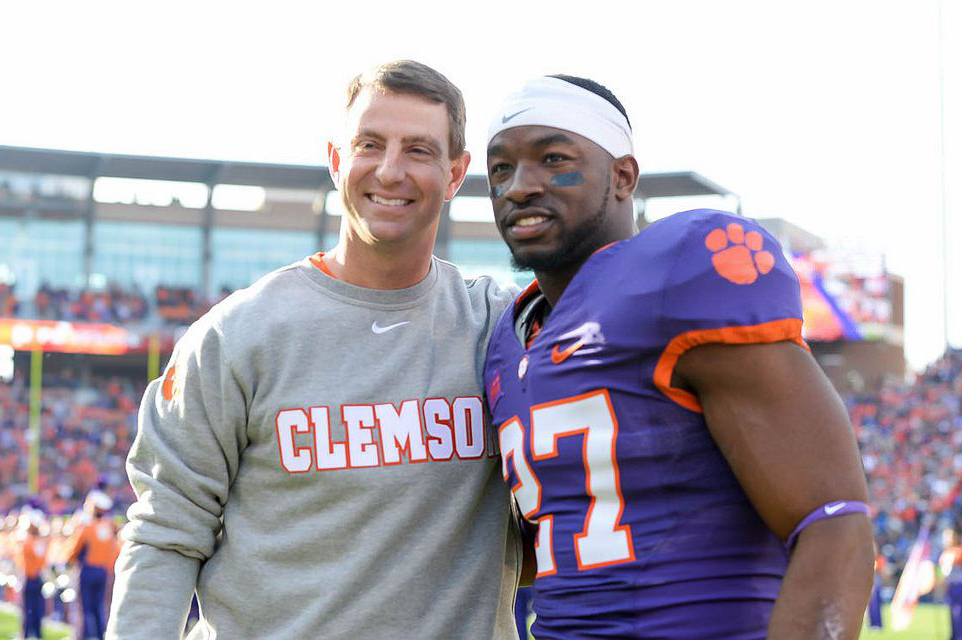 During his senior year of high school, Robert healed from his injury and enjoyed a stellar season – and the schools that had rescinded their offers of course came crawling back. But Robert stayed firm in his commitment to Clemson's football program and its coach, Dabo Swinney.
"Coach Swinney made a commitment to me – the word 'commitment' never meant so much to me until that time of my life. That was one of the lowest points in my life because I thought maybe I wouldn't be able to play college ball after putting all the work in. Coach Swinney said he was not just committed to me for four to five years, but for life," Robert admitted.
When Robert did start his college career, the transition was challenging, as it is for most new undergrads. But his toughest change took place behind the line of scrimmage: He was now a safety.
"The first year was a big wake-up call. I was a big fish in a small pond before. All my life, I was a starter  – the first one picked," he shared. "It was a great year team-wise because we won the ACC for the first time in 21 years, but for me as a person, I wasn't so happy because I couldn't let go of the past. It was not the way I planned it."
Yet by his junior year, he was a permanent starter, a top-performing safety in the country, a captain of the team, and an ACC Academic Honor Roll member. Robert entered his senior year thinking he was on his way to becoming a professional football star who would be drafted by the Seattle Seahawks – especially since he says he received a call from the NFL team telling him just that. But as Robert would say, life's unpredictable twists struck again.
During his draft party – surrounded by family, sporting a Seahawks hat, and waiting patiently to hear his name called – Roger Goodell instead announced from the podium: "Ryan Murphy, Oregon State." Robert now reflected, "It was one of those things where no one had an answer. No one knew why. It's just the nature of the business."
So he went undrafted as a free agent and signed with the Indianapolis Colts, but was released just a few months later. Throughout his NFL career, Robert would be signed and released about nine times by the Colts and by, you guessed it, the Seahawks. After all of that shuffling, which included countless flights, numerous doctor appointments, and a considerable amount of stress, he realized it was time for another transition.
"I decided I needed to know who Robert Rashad Smith really is," he said. "I had to be more than football because so much of my identity was in the sport: Robert Smith the quarterback, Robert Smith the safety, Robert Smith at Clemson… it was never just 'Robert Smith.'"
He remembered, "One night I just got on my knees and prayed. The next day, ironically, my coach called, my dad, sister… everyone in my family called. It's a testament to how God actually moves."
Five days later, Robert walked into a meeting for P.A.W. Journey, a leadership and life skills program for Clemson football athletes. Kevin Jones, currently N2's national director of sports recruiting, was there to showcase a publication. Coach Swinney and Jeff Davis, the director of P.A.W. Journey, encouraged Robert to be open to the presentation and just listen.

Happy Accidents
"It was a complete accident. N2 wasn't looking for me, and I definitely wasn't looking for them! I guess we were both in the right place at the right time," he laughed.
But the opportunity made sense. Robert always wanted to control his destiny, but most of all, he wanted to serve others and create a sense of community. N2 didn't have nearby areas available at first, but when Kevin moved, Robert took over his publication, Stroll The Cliffs Communities, in Greenville, South Carolina.
"Like I said, I may not have always gotten things in life the way I wanted, but God always gave me a variation of what I was looking for," Robert said. "If you would have asked me 10 years ago would I be working with a magazine…"
But now it seems like a perfect fit. In fact, he believes anyone who plays sports can succeed with N2 because there are so many skills that transition perfectly for the role.
"[Through athletics] you learn to work hard, work with a team, go through adversity, persevere, and wake up early if needed. I took N2's blueprint and applied my skills from sports while holding on to those pillars of life that my father taught me," said Robert.
And while he admits it's great to make good money through his N2 franchise, he says it's even better to put a smile on peoples' faces and do things in an ethical way that serves God. Like Coach Swinney told him, "God never says 'oops.'"
"[This is] exactly where He wanted me when He wanted me," Robert said. "Looking back, there's a reason for all of the back and forth… He had other plans and kept bringing me back – He had something waiting for me."
"I always plan on going where God takes me."