If you know your Bible history, you might say Joni Giordano-Bowling was the Saul of print in her previous career. She actively set out to destroy print in the name of internet marketing, and she was good at it. Now, after more than eight years with The N2 Company, it's safe to say Joni's had a transformation when it comes to her relationship with the ol' ink and paper. 
Her story includes a great comeback leading to commission personal bests, N2's Rising Phoenix award, and even being tapped to coach others. Joni uses print to its fullest potential now more than ever. In fact, you could say she's more of an Apostle Paul of print evangelism today. 
Joni Giordano, Print Killer
Joni spent 12 years in the boating, motorcycle, and RV industry implementing strategies for internet marketing. She was one of seven salespeople traveling around the country training outside representatives on how to convert their print marketing (the old, outdated trader magazines) into lucrative and new internet marketing.
"My favorite objection in this world now is 'print doesn't work.' Yeah, I know, I killed it," she joked.
"Print is only dead when it's not read and not relevant. N2 offers both these things in all their publications," she continued.
Before that, Joni worked for 14 years in higher education with printed alumni directories and online alumni communities. The target demographic to which she's always marketed is affluent and influential individuals. 
Joni loved what she did, and she was great at it. Unfortunately, something many of us can relate to began to unfold. Because of changes in ownership and top leadership, Joni's last two years in the motorcycle, boating, and RV industry turned into a miserable experience. 
With every higher-up twist in the business, the way the company treated its people turned into a negative outcome. Joni's books of business were slowly given out to friends and family of the leaders. Regardless, it's important to note that she still felt like she was treated well – she was still the highest-paid salesperson in her area. 
But money wasn't what got Joni up in the morning. So what was it that caused her to cry during her commute to work? Why did she feel unsettled after establishing herself as a top salesperson? 
"I wasn't getting any younger. And if I was going to build a book of business, I wanted to build something I could keep," she explained. 
No Regrets
Joni went on the hunt for her next adventure. It came with a lot of soul-searching, or what she describes as divine intervention. At the time, she didn't even consider herself to be a religious person. Spiritual, maybe. But she was having a lot of conversations with God. 
Business opportunities came at her from every direction. People were bartering left and right to get her. But she kept turning them down. She did all this while also questioning God in her car: "Why do you keep having me turn down these jobs? I don't get it!" But she believes now it's because God wanted her to find N2. 
The thing is, at the time, Joni was in her late 40s with not just a bevy of expertise under her belt;  because she had done so well, she also had money saved and knew she could leverage her time to find the right next step. She knew in her gut it was time to go for something different. 
She already had experienced two great careers. She figured she had only one really meaningful shot at another one. "I'm a loyalty girl. I make a decision and stick with it for 10 years, at least," Joni said. She'd been in the "concrete jungle" of the corporate world, and now it was time to take a shot at working for herself and running her own business.
The great franchise search began once she knew that was the best next direction. She was even slated to go for a specific coffee franchise but just hadn't pulled the trigger. Out of all the voices vying for Joni's attention during that time, it was a former coworker who was able to pierce through the noise. This woman had recently ramped up an N2 publication in Florida as an Area Director and was singing the company's and opportunity's praises. 
Well, like many just hearing about the role, Joni told her friend she didn't participate in scams or multi-level marketing schemes. (Raise your hand if you had the same initial reaction!) But to her friend's credit (and great persistence), they talked more about what an N2 Area Director actually does – much to Joni's interest, it does not include multi-level marketing tactics or income resembling a pyramid shape. 
Her friend showed her commission statements and "paraded" videos from N2 Area Director and trainer Mike Maletich. She went on to gush to Joni about how wonderful the company itself was. That piqued Joni's interest. 
After suffering through two years of watching her great career accomplishments get swiped and piecemealed by leadership, this was enticing. Joni figured, what's the harm in turning in an application, after all?
She brought all this to her boyfriend, Dave, and the two of them decided to join forces. He would still continue in his radio career, but be there to help Joni with all the changes. Joni's ultimate decision came down to one thing – living without regret. She could either try and perhaps fail, or never try and regret not knowing what could have been.
"I'd never been able to take a career risk, and here was a great opportunity in my life to try something big and different with a potentially great payoff." 
She set herself up to take the gamble thanks to her previous successes. It was now time to take the risk and see what could be. 
Starting Out With N2
Joni's big career change happened in early 2014. She went to training in March with more than 50 other Pre-Print Area Directors in Chicago, when the training was still held in person. Joni quipped it was during N2's "tidal waves of warm bodies" and if not for that, she probably wouldn't have been brought on. Although we know that's certainly not true given her background – unless we took her previous "print-is-dead" statements personally. 
She started ramping up a publication for a local neighborhood. The neighborhood was less affluent than those typically served by N2, presenting a sales challenge. But still, she pressed on. On top of that, because of personal dealings, she didn't begin selling ad space in her pending publication until late April and went to N2's Spring National Conference in May with only 2% toward the break-even number of ad agreements needed to bring a new publication to print. One. Sale. 
And although she gained some of the signature post-conference confidence and energy, after returning home, she received the dreaded "poop or get off the pot" letter. It said if she was going to continue holding only seven sales appointments a week, it would take over a year to launch her pub (way beyond the typical six months or less). Not ideal, right? 
It turns out that the couple who were slated as Area Directors for East Beach Living (now Stroll East Beach), a publication for the more affluent neighborhood down the street from Joni, decided to "get off the pot." Joni was able to switch, and with that surge of inspiration, it took her only two and a half months to launch. 
A nod to her lifelong perseverance – one of the many reasons Joni received N2's internal and prestigious Rising Phoenix award at the company's January 2022 Kick-Off Conference – she didn't just get through ramping up a publication under normal circumstances in those 12 weeks. During that period, eight people who were in a faith-based organization in which Joni held a leadership position passed away. 
Joni drove three to four hours for funerals just about every week. She didn't want to sound as if she was making up excuses, so she stopped telling her N2 Launch Coach when someone new passed away. "It was rough," Joni remembered. "Ramp-up is emotional anyway, but to have eight people die during those weeks wore me down." Even so, she persisted.
When she got her publication groove on, Joni grew her publication's book of business to where it needed to be, and beyond. But she didn't stop there. She then took on an additional Stroll publication that was struggling. At first she was just "babysitting" the magazine until they found someone to take it over. After some major triage and forming great relationships that helped bring the magazine back to life, Joni decided to keep it for herself. 
After seeing Joni run two Stroll magazines for a few years, Dave decided she was having too much fun without him. It was around the fall of 2018 that he jumped ship from his radio career to join forces with her. But being savvy business people, they decided to diversify their N2 holdings. 
The option of launching one of N2's BeLocal, Real Producers, or Medical Professionals magazines was on the table, and they ultimately found Real Producers to be their best fit. This N2 line of magazines profiles top-performing agents and rising stars of interest to the local real estate community. 
Joni got approved to launch a Real Producers magazine and went to training in December 2018 for their newest venture. Dave took on their Stroll publications, and Joni focused on ramping up Hampton Roads Real Producers, ultimately launching in July 2019. 
An N2 Wedding
We'll pause the "N2 story" here to interject a personal milestone for Joni and Dave. It's safe to say when Joni is "in" something, she's all in. As part of what used to be N2's Life.Work.Care program, anyone in the company could connect with someone to talk through personal or familial challenges. Joni jumped into helping those who were struggling with addiction, having both firsthand and educational experience with the family struggles surrounding the disease of addiction.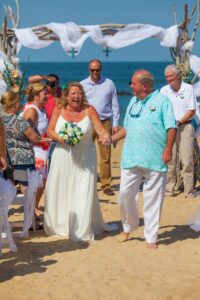 She was able to use this time to point others to resources in their local communities and help talk through what they were experiencing. Her sister is also a crisis counselor, so she had another great resource to rely on when it went beyond her understanding. David Clyde (DC), who at the time led N2's Life.Work.Care. program and who is now a top executive in the company, got to know Joni through all of this, and he and Dave also hit it off with their love of wit and sarcasm. 
Joni and Dave had been together for quite some time, but they decided in 2019 to make it "officially official" and get married. DC's name kept coming up when searching for an officiant, even with a plethora of choices from Joni and Dave's volunteer groups and the ministries in which they were involved. When they asked him, his answer was "immediate and solid." 
In Joni's words, "he nailed it." On September 21, 2019, Joni and Dave were married in front of friends and family while DC shared sentiments that perfectly matched how they felt and what they experienced together.
Trial by Fire
Back to the N2 story! Hampton Roads Real Producers was proving to be a harder venture than Joni anticipated. Half-jokingly, Joni remembered, "Every time I go through ramp-up, I kick myself and say, 'What was I thinking?'" 
But she managed to get the new magazine to print. Her profits weren't great, and she "limped along" living in fear of new things, as we all sometimes do on new journeys. 
In 2020, N2 formed a team to help Area Directors struggling in their book of business get back in the black. In February, Joni got an email saying she was at risk of losing her franchise. What a blow. Of course, this is never what someone wants to hear, especially those with a stellar track record. Joni had been with N2 for six years (very successfully, may we add), but what she was being told now was that her newest publication wasn't on track to stay in print. 
"When I got the compliance message, I was so pissed off," Joni added, now laughing. She gave Bernadette Hayes, N2's Director of Franchise Experience, a call immediately to express her woes, and the talk lasted for an hour – not unlike a good therapy session. Bernadette was a woman Joni looked up to and respected, and she needed her to talk her through all the emotions in the moment. Joni remembered, "Poor thing, she took an earful… but she took notes, and [N2's] approach to the whole process got better because she was willing to listen."
To add to the weight of compliance, Joni was suffering enough from bad allergies to go on medication that happened to come with a side of depression – something she'd never dealt with before. And then the world shut down in March. "I was [out of] compliance, about to lose my franchise, the world's shutting down, and I'm dealing with severe clinical depression," she recalled. "I've overcome a lot in my life, but in the last 20 years, that's the hardest season I've gone through." 
"I wanted to just crawl in a hole and make the world go away," Joni recalled.
"If it hadn't been for my husband, who made me get up every morning and put one foot in front of the other, dusted me off, and pushed me out the door right into my office to Zoom… I don't know that I would have pursued the business."
Dave got her through those extremely difficult moments – helping her to keep going through the fog of depression and the hard times for her Hampton Roads Real Producers magazine. Joni got off her allergy meds, which took care of the depression issue, and then went into "survivor mode" to get into compliance.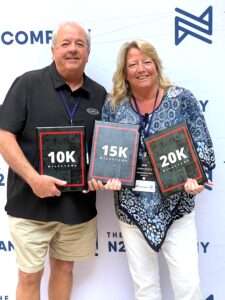 Daily training calls with N2's Mike Maletich in early 2020 helped Joni and so many others through the beginning of the pandemic, with steady wisdom, sound advice, and new ideas. "I followed his directions like a lemming," Joni joked. At the beginning of April 2020, she made seven sales – something she'd never done… ever. "Whatever Mike said, I did." By doing one thing after another, Joni pushed to get back into compliance by May 2020. And she kept going.
Joni not only made her Real Producers business profitable, but also gained new momentum that lit a fire for much, much more. "That's the cool part," Joni declared. "Not only did I take this 'want to give up' moment and turn it into something better, but I excelled probably five times more than I ever would have."
Instead of crawling into a hole, Joni forged through the tough moments. She overcame her own mental uncomfortability, having to call clients during a national pandemic, and also creating an entirely new definition of success for herself and the way she ran her day-to-day. Joni credits having to save her publication with accelerating her to a person of influence within the Hampton Roads real estate industry and community. 
From the Ashes
This is where Joni, just like during her big career shift after nearly 30 years, found that being open to trying something different, no matter how uncomfortable that something different is, is worth the unknown. She also discovered that the more good things she did in the community, the better it was for her business even if it wasn't intended for profit. "I think it's about doing unto others," Joni said.
"The more riches I put out into the community that had nothing to do with my earnings, somehow came back to me tenfold." 
Last year, Dave and Joni sold the second N2 publication they took on. They kept their "firstborn" (Stroll East Beach), as well as Hampton Roads Real Producers, and this year launched the all new Peninsula Real Producers, which is off to a great start. 
When they started working together in the beginning, they stayed in their lanes, with Dave handling the neighborhood pubs and Joni taking care of the Real Producers side, but they're finding a way to meld responsibilities today. 
Joni also took on the role of N2 Performance Coach beginning last summer, helping 12 other Area Directors run their business well. Joni credits her weekly calls with her coach as instrumental when going through the compliance process back in 2020. She was also shocked when she couldn't find a single female Real Producers coach. A questioning call to JP Hamel, N2's Head of Franchise Development, ensued. His answer? "Well Giordano, that's because you haven't thrown your hat into the ring." 
After some thought, Joni went for it. Turns out, she's good at that too! "Talk about steel on steel," Joni gushed.
"My mentees help me sharpen my game as much or more than I help them sharpen theirs. It's collaboration, inclusivity, and community." 
Joni's strength and grit were forged into her character from a young age. Growing up, she witnessed strong female influences, and she's certainly holding that torch today. "I come from a long line of strong women, and my mother was a pioneer in the '70s as a single mom of five kids," she shared.
Joni also gives credit to others in her business – and she wants people to know it takes more than a single person to make everything happen. Her staff, especially Jackie Donaldson (Joni's general manager), handles content, ads, clients, you name it. "She's amazing," Joni said. 
Of course Dave – Joni's husband, business partner extraordinaire, greatest supporter, and the reason why she's able to do "any of this" – tops her list of shoutouts. Unplugging is Joni and Dave's favorite "downtime" thing to do together. They relax from time to time on Hatteras Island, and love anything beach, boating, and fishing. 
As for this year, Joni's goal is to be in the Real Producers Top 20. "And you know, I'm just having a lot of fun with it all again."
Joni's Favorite N2 Core Value
"Do the right thing, not the easy thing." 
There's nothing easy about our career. There's nothing easy about the relationships we maintain, and surprise surprise, we're not perfect! I make a lot of mistakes in this industry, but if I'm trying to do the right thing and learn from them, then that's the only way I can be better tomorrow than I am today. We all make mistakes, but I'm so relieved to know it's okay. I'd rather try and fail than fail by never trying. 
Joni's Words of Wisdom
Embrace Being Uncomfortable
My willingness to walk through uncomfortable challenges is key to how I have been able to grow in business and in life.
Ask For Help
There are people who have forged this path before us who are willing and able to give us great feedback, so ask them! I'm a big believer in the N2 coaching system – use a coach for your business.
Take Advantage of N2 Training
For anyone who decides to embark on their own N2 journey, don't miss the training opportunities N2 provides. That includes Monday sales calls, the extra coaching calls, attending conferences, etc. If you're not prioritizing those things, you're selling yourself short. Don't miss the opportunities to really take advantage of everything N2 does for Area Directors to help us push our businesses forward.