Christine Knapp had a vision for her future.
"I wanted the freedom to say 'yes' to my children," Christine said. "Financially, I never want anything to hold me back from saying 'yes.'"
Christine became an N2 Area Director in 2014 after deciding to pursue her vision. Her tenacity enabled her to manage two publications, two children, and a new lifestyle — and to later embrace change on the professional front. 
It Started With Soul-Searching
Before starting with N2, Christine was in the middle of both a clinical mental health graduate program and a divorce — while also raising two young children. After being a stay-at-home mom for nine years, Christine knew she needed a career that would provide for her family.
"I had a vision for the life I wanted to afford," Christine said. "I knew I needed to have a business that would allow me to pay for everything myself."
She first heard about N2 through a friend, Linda Roman, who started a neighborhood publication in Pittsburgh. 
"I thought she was crazy," Christine said. "I didn't believe that a company like what she described could exist."
But as her friend began to talk about how much she loved N2 and the leadership team, Christine realized, "This is it. This is the best opportunity I have to build my income to the level I need to support my kids, buy a house, and live the life I want."
Committed to her vision, Christine went to training in June of 2014 and ramped up her first neighborhood publication in the Mechanicsburg, PA, area in a span of just 11 weeks.
During ramp-up, Christine was often asked why she was starting a neighborhood publication. And for her, it was about more than just providing for her family — it was fulfilling a lifelong dream of bringing people together. 
"When I was a little girl, I used to always say that I wanted my career to make the world a better place, and by giving neighbors a chance to know neighbors, I'm doing that."
Of course, transitioning from full-time mom to business owner wasn't easy, but Christine felt grateful her children were able to watch the process. 
Freedom in Work and for Family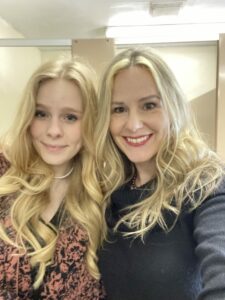 After her first magazine went to print, Christine had to readjust both professionally and personally as a single mother of two and a new business owner. Despite those changes, her tenacity and motivation drove her forward, and Christine grew her first publication until nearly every ad space available was sold. 
"With N2, I had the freedom to work when needed and to deal with my personal chaos when needed — while my income still grew," she said.
Christine not only found ways to provide financially for her children, but also was able to be there for them as they, too, went through some big life changes. 
"I couldn't have invested nearly as much in time in my kids' emotional well-being if it weren't for N2," she pointed out.
With one successful Stroll publication under her belt, Christine decided to take on a second one – which became yet another success. And while still running both magazines, she pushed herself even further to pursue an N2 leadership opportunity – that of Development Director. 
Motherhood a Priority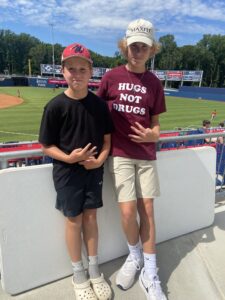 Ultimately, however, the leadership position proved to be a bit too much in combination with the two publications. Christine began to hear complaints from her children about her heavy workload, so she made the decision to step down as Development Director toward the end of 2017. Her role as Mom was too important.
During this time, Christine's leaders and teammates at N2 offered her incredible support in her decision. 
"I have always felt confident and supported by N2 in that my priorities are theirs too: Motherhood comes first," she said.
Time for New Challenges
About a year later, however, Christine was ready to take on a new role – one that would allow her, in turn, to support others. In 2018, she enrolled in the International Coaching Federation's (ICF) life-coaching certification program, which she completed in May of 2019. 
At the time, N2 was building its new internal Performance Coaching program, seeking Performance Coaches to support fellow Area Directors. Christine threw her hat into the ring, was chosen, completed training, and eagerly jumped into her new role as Coach.  
"And I still had my publications," she pointed out. 
As if life running two magazines, coaching fellow ADs, and being a fully present single mom wasn't challenging enough, Christine also contracted Lyme disease in 2018. But when she was diagnosed, she knew exactly who to call for help: a resident she had featured in one of her magazines numerous times for work tied to her nonprofit Lyme awareness organization. 
"I knew that most regular medical doctors would try to prescribe me drugs to get rid of it and it wouldn't work as a long-term solution," Christine said. "I also knew that most medical doctors severely lacked the knowledge of how to treat it. [My reader] connected me to the local chiropractic office that operates as the unofficial authority on healing naturally from Lyme, and I successfully cured it completely in about two years," shared Christine. "This was all thanks to my N2 magazine."
After Christine was in the Performance Coaching role for a while, JP Hamel – then Head of Coaching – announced that N2 was planning to hire two Performance Coach Managers. Those managers would be tasked with supporting N2's network of 40Performance Coaches. Once again, Christine made the cut.
To make time for this impactful role – and for her children, of course – Christine eventually gave up both of her Stroll publications. But 2022 arrived and brought with it a string of events that once again threatened her work-life balance.
In January, Christine lost her mom to pancreatic cancer. Then in March, she broke her leg skiing and underwent surgery. To top it all off, Christine also ended her engagement to her long-time fiancé, sold her home, and moved her family a couple miles away to a townhouse she already owned but had been renting out. Her broken leg was still on the mend during the move.
"A lot of friends helped me unpack, and my dad came and helped me for two weeks and then came back again," Christine said.
Her N2 work family showed up for her yet again, helping Christine get through those extremely difficult months. 
"I felt so supported by my colleague, Mary Beth Jones, and our support assistant, Rona Torino" she said. "My bosses, Doug Couillard and Nicole Geraghty and JP [Hamel], they were so patient and understanding with me with all I went through from January until basically May. The Region Managers were equally supportive and understanding," said Christine. 
"I feel so much gratitude. N2 is filled to the brim with kind-hearted and hard-working individuals." 
Back in Balance
Thankfully, work and life are now back in balance for Christine. And she loves her Performance Coach Manager role, which allows her to help Area Directors better understand their businesses and themselves so they can work more effectively. 
"I love connecting with Area Directors and with other Coaches," she said. "We've developed a lot of different coaching strategies to help people work with their strengths and be able to be more aware of their weaknesses – and come up with ways to be successful in spite of the areas they might not be strong in." 
Although she and her counterpart Mary Beth have been in their new positions for more than a year, Christine believes they've "just scratched the surface" of what they can accomplish. Looking ahead, Christine will continue to embrace change at work while actively engaging with her two children (now teenagers!). She and Mary Beth have a lot of ideas they are excited to implement and look forward to working closely with the new Product Development Directors, Keith, Denise, and Bobby, on ways the Coaching Department can support their visions for the products. 
"Over the past year, we've developed a very symbiotic working relationship with the Region Managers," Christine said. "There's no reason that kind of teamwork can't exist among all departments, and we are excited to do what we can to support the ADs, Managers, and Directors."
Unsurprisingly, Christine is moving forward on a very optimistic note. 
"Life is awesome! It's never been better," she stressed. "I love what I do as a Performance Coach Manager. It doesn't feel like work at all."